COMING SOON: Billy and the Killers at HERE!
Actor, novelist and award-winning playwright Jim Shankman, who recently debuted his newest play, Heartless Bastard, as part of the SubletSeries@HERE, is thrilled to announce that his new musical, Billy and the Killers, will make its world premiere this November at HERE! Arts Center (located at 145 Sixth Avenue, New York, NY). Also presented as part of the SubletSeries@HERE, Billy and the Killers will begin performances on Tuesday, November 7, 2017, and play a strictly limited engagement through Sunday, November 18. An official opening night is set for Thursday, November 9, 2017 at 6:30pm.
In Billy and the Killers, play meets rock band in a tale of misfit lovers and a bloody crime of passion. Billy is a sensitive young songwriter, but his music is violent and disturbing. Living in a trailer park with his ex-con father, the deck is stacked against him until he meets Nell, a kindred spirit, fascinated with death and in love with music. Billy's dark vision mixed with Nell's rebellious nature is a volatile combination. When Nell is brutally murdered, the police listen to Billy's music and accuse him of the crime. Why is it art can heal the artist and destroy the artless?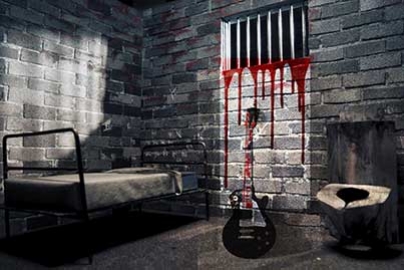 Like several of Mr. Shankman's other plays, including the recent world premiere of his latest play Heartless Bastard, Billy and the Killers is a tale taken right from the headlines.
According to Mr. Shankman, "Without giving too much away, this new musical is based on a a teenager who was accused of killing his girlfriend when police discover the dark and violent nature of his paintings and drawings. This spoke to me on many levels, including the suspicion of the artist in society, the power and provocative nature of art, the use and misuse of art, the often misplaced innocence of the artist and the brutal awakening to the adult world that comes to us in our teenage years. I was stuck because of the static non-dramatic nature of painting (without the resources of a Stephen Sondheim), until I thought of making the main character a musician. Composer Peter Stopschinski and I began with the idea of heavy metal and acoustic metal as an expression of youthful angst and rebellion, but Peter's music has evolved into something more eclectic that grows from innocence to sophistication."
Featuring book & Lyrics by Jim Shankman and music by Peter Stopschinski (original music for Pulitzer Prize Drama The Curious Case of the Watson Intelligence, Billy and the Killers stars Adrian Blake Enscoe, front man for the up-and-coming band Bandit on the Run, as the title role of Billy. He will be joined on stage by Broadway veteran and his fellow band mate Sydney Shepherd (First Date), Broadway regular Sean McDermott (Miss Saigon, Falsettos, Grease, Starlight Express), Tom O'Keefe (Bedlam's Vanity Fair at The Pearl) and Paul Sadlik.
Billy and the Killers will be directed by Craig J. George, who previously directed Mr. Shankman's Heartless Bastard and his award winning-play The Screenwriter Dies of His Own Freewill, and collaborated with Mr. Stopschinski on The Calico Buffalo at NYMF 2015. The production will feature scenic design by Margaux Maeght, lighting design by Cha See, costume design by Glenna Ryer, sound design by Rafe Terrizzi, and general management by Simpson & Longthorne Theatricals.
Tickets for the world premiere of Billy and the Killers are $18 and can be purchased online at www.here.org, by phone at (212) 352-3101, or at the HERE box office* located at 145 Sixth Avenue.
*Please Note: the box office is open after 5pm on show days or 2 hours before any performance