The 12 Days of Books: Day 4
The World Needs More Love Letters is by far one of my favorite organizations on the planet. In a world where it seems like love and hate are in a constant battle for our attention, More Love Letters triumphs and bursts through the screens and mailboxes of everyone who's fortunate to come across this beautiful brand, headed by the incomparable Hannah Brencher.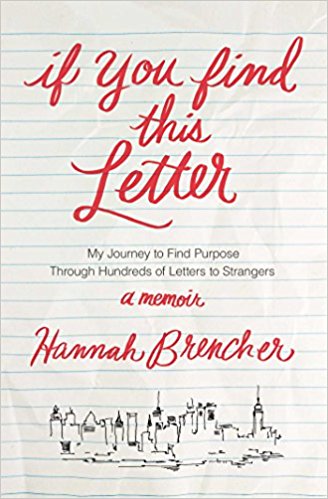 Hannah Brencher's memoir, If You Find This Letter: My Journey to Find Purpose Through Hundreds of Letters to Strangers gives a beautiful, heartwarming, inspiring insight to how The World Needs More Love Letters came to be – and is the literary equivalent of a hot cup of cocoa on a cold winter day.
Read it.
Drink her words in.
The love radiates off of the page.
It's the perfect gift for literary soul, or for that bookworm whom you know and love.
Live, Love, Learn,
p.s. ::: The World Needs More Love Letters is hosting their annual holiday campaign, The 12 Days of Letter Writing, and you ca find out more about it here.