Olivia Puckett, Gerard Canonico & MORE Set For The Capulet Party
Olivia Puckett (Dear Evan Hansen, American Idiot), Gerard Canonico (Groundhog Day, Be More Chill), Taylor Iman Jones (Groundhog Day, Head Over Heels), George Psomas (Fiddler on the Roof, South Pacific), Jason Veasey (The Lion King, Broadway Bounty Hunter), Anthony Crouchelli (Tarzan, The Adventures of Tom Sawyer), Shelby Finnie (The Prom), Shea Madison (Mr. Chekov and Mr. Porter), Charlotte Maltby (The Sound of Music), Taylor McMahon (AcousticaElectronica), Matt Rodin (BROadway, Red Carpet Challenge), Kristen Sandler (Joseph…Dreamcoat, Elf), Stephen Wagner (Kid Frankenstein), Kalyn West (Prince of Egypt), and Adam Wedesky (The Green Bird) have joined the line-up for THE CAPULET PARTY at The Green Room 42 on Monday, March 19th at 9:30pm.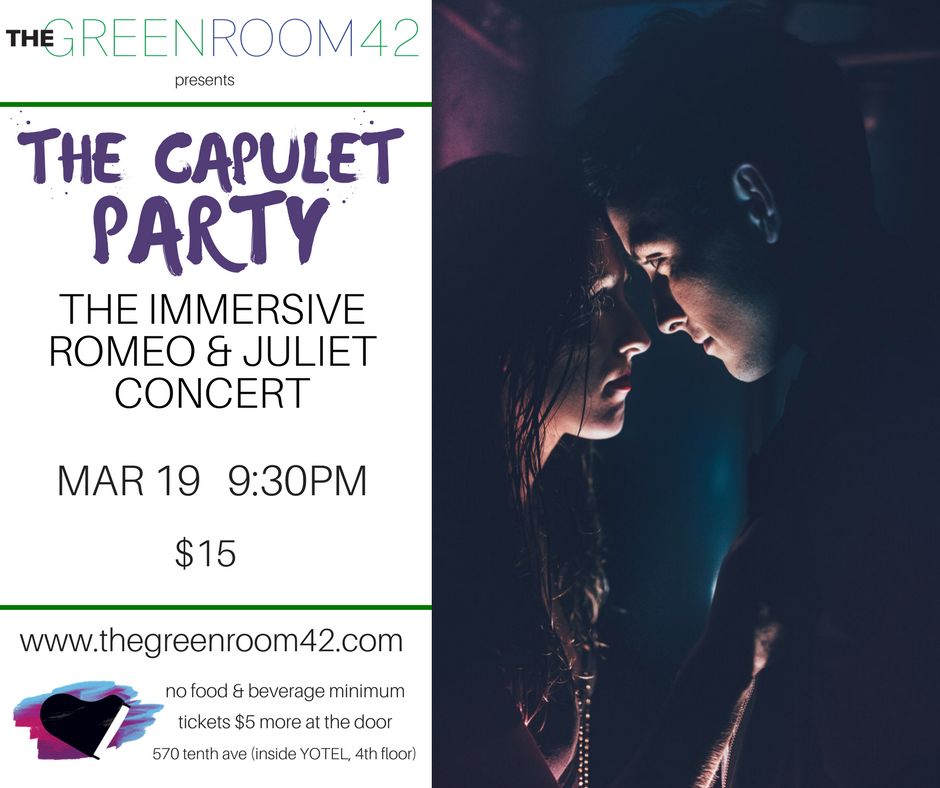 The previously announced performers for the immersive concert include Brian Flores (Pippin, Head Over Heels), Kaitlyn Frank (Newsies), Natalie Walker (Puffs), Joshua Burrage (Newsies, Cats), Alex Prakken (Newsies), Meredith Inglesby (Newsies), McKinley Merritt, Jennafer Newberry (Freaky Friday), Daniel Quadrino (Wicked, Newsies), Michael Ryan (Newsies),  with more to be announced!
THE GREEN ROOM, Broadway's newest, most spacious, and funkiest cabaret club, presents The Capulet Party on Monday, March 19th.
The Capulet Party is an exciting immersive concert experience that invites you to become a guest of Lord and Lady Capulet's infamous party as that most star-crossed of meet cutes unfolds around you.  Featuring music by Pink, 30 Seconds to Mars, Sia, Lorde, Miranda Lambert, and more, The Capulet Party offers a new journey with the characters you think you know, and an experience tailored to the table you choose—join us for all the drama and none of the tragedy, where anything is possible, and the stars determine your fate!
The evening will directed by Ashlee Latimer, choreographed by Kaitlyn Frank, and music directed by Peter van Reesema.
There is a $15-$30 cover charge and no food or beverage minimum. Tickets and information are available at http://www.onfournyc.com/tickets.html.