A Write Teacher(s) Spotlight: The Music Box – A Celebration of Lady Composers
Hello Beautiful People,
On Sunday I had the pleasure of attending The Music Box – A Celebration of Lady Composers at the PTC Performance Space as part of the New York Musical Theatre Festival.
Oh. My. Goodness.
If you missed it, well, kick yourself now.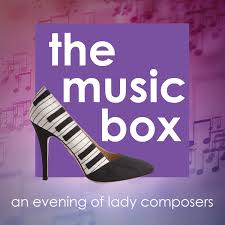 The writers, Masi Asare, Lydia Benecke, Suzy Conn, Julianne Wick Davis, Carmel Dean, Amy Engelhardt, Zina Goldrich, Amanda Green, Marcy Heisler, Anna K. Jacobs, Stephanie Johnstone, Kailey Marshall, Grace McLean, Julia Meinwald, Madeline Myers, Juliana Nash, Susannah Pearse, Kamala Sankaram, and Zoe Sarnak, truly outdid themselves.
Now, I just SAW Murder Ballad, and loved it.  And it made me so sad that it was closing this past weekend, so it was an absolute delight to hear the songs of Juliana Nash and Julia Jordan once again.
I am familiar with the work of Amanda Green, and when Michael Halling & Kelly McCormic sang I'm Gone, I was immediately taken back to the Brooks Atkinson, as that duet is by far one of my favorite songs from HANDS ON A HARDBODY.
I am also familiar with the work of Zoe Sarnak, a truly gifted composer and lyricist who has an uncanny ability to pour an unending amount of emotion into her work – Zoe's songs hit you in the heart, the soul, the gut, and the head simultaneously. If Your Child, performed by Pierce Cravens was no exception.
I could write about this concert for an unending amount of characters – as ALL of the performers and songstresses absolutely killed it. Amazing. So, here's the moment where I'd like to congratulate Ephie Aardema, Helen Anker, Jacqueline B. Arnold, Pierce Cravens, Michael Halling, Dara Hartman, Tamra Hayden, Todd Lawson, Kelly McCormick, Melissa Mitchell, Kathleen Elizabeth Monteleone, Fabio Monteiro, Okwui Okpokwasili, Kristin Parker, Ronica Reddick, Keala Settle, Georgia Tapp, Nik Walker, and Cortney Wolfson.
There were particular moments that absolutely took my breath away – when Okwui Okopokwasili sang Tied, music by Kamala Sankaram and lyrics by Jennifer Gibbs, I think I stopped breathing. And so did my friends. And so did the people next to us. And behind us. And in front of us.  The entire audience was mezmerized. Still. The air felt full of the story and of the music.  It was brilliant.
Another favorite moment was, Natural Disaster, written & performed by Grace McLean. You could build an entire show around that song. It was funny, it was poignant, it was different, it was sad, it was about a thousand and one emotions wrapped up into four minutes. Bravo.
The Music Box: An Evening of Lady Composers was an evening that recharged the soul.  It was a night full of beautiful music, beautiful heart, beautiful storytelling, and new voices.
Live, Love, Learn,