Actors & Actresses Q&A Series: Ryan Andes
Hello Beautiful People,
I'm absolutely thrilled to introduce you to our next featured actor in the Actors & Actresses Q&A Series, Ryan Andes. To make this even more exciting for you all, you should know that Ryan is playing Karl the Giant in the upcoming production of Big Fish on Broadway that will call the Neil Simon Theatre home in September. Now, I always have a soft spot for giants, whether it is on the screen or on the stage. Perhaps it's because I was called a jolly green giant when I was younger, (I'm merely 5'9″, hardly giant stature, but children can be cruel in first grade). Needless to say, I was honored when Ryan agreed to give up a night after rehearsal to talk to to me about theater, books, arts education, and of course, Big Fish. Ryan's recent TV credits include "Person of Interest," (Guest Star, CBS),   "Clean Kill," (Web Episodic, Broken Window Films), and As the World Turns," (Guest Star, CBS).  His recent film credits include, The Widowers,(Indy Feature) and Charred Oak. He holds various NYC stage credits, along with opera, musical theatre, and voice over, and you can find them all on www.ryanandes.com. And now, without further ado, meet Ryan Andes…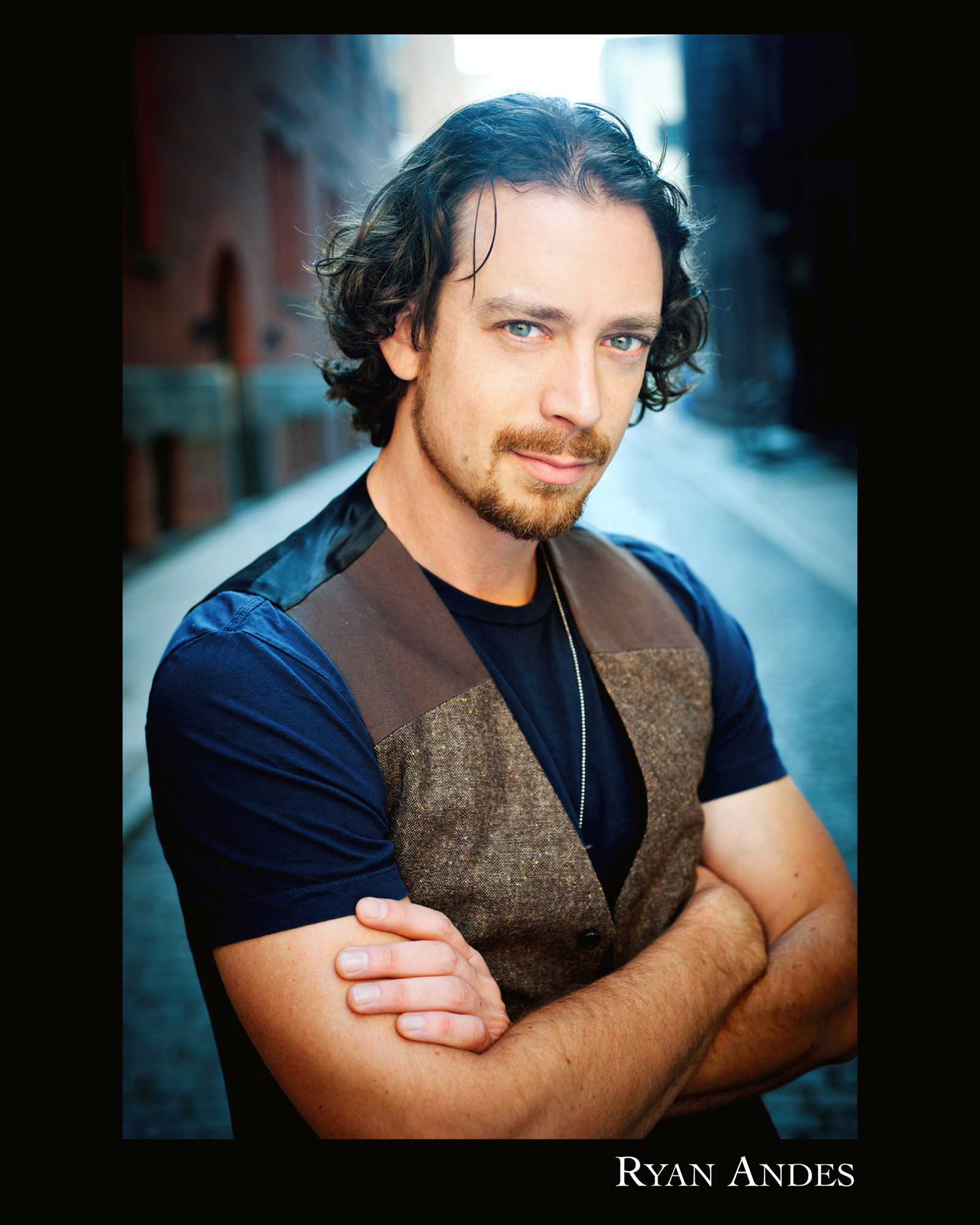 TWT: First things first, did you always want to be an actor/singer?
RA: Yes. I come from a performing family, on both my mother and my father's side.  On my father's side, the big shining star there is Keith Andes, who got his career started on Broadway back when he was in 20s in the 1940s. He was in the air force, and started singing with the USOs. He started singing before he enlisted, and then when he got out, he booked a Broadway show called Winged Victory.  That was the one that started it all, and he ended up replacing Alfred Drake in Kiss Me Kate, and then he was discovered by David O. Selznick, who was a big movie producer at the time, and that was the start of his movie career.  His first film was with Marilyn Monroe, Clash by Night. So I grew up in that shadow. On my mother's side, her mother was a dancer/contortionist with the Dean Martin and Jerry Lewis traveling roadshow.  She was part of the variety show, and would do little acts with Dean and Jerry onstage.  So since I was a kid, I remember going to theatre class when I was five or six years old. I started learning how to sing when I was that age, too.  Also on my father's side, my father and his brother were both musicians.  My uncle, Mark Andes, especially became a famous musician; he was the bassist for Heart for many years before he went onto his solo career.  So, it's in the blood, but the man who had the most influence on me by far was my grandfather. He and I probably had the closest relationship than anyone else in the family.  He was a difficult person to get along with, and wasn't very nice to many people, including his sons, but for some reason, he really understood me, really encouraged me to become a proper musician. It's because of him that I always knew that this was what I was going to do.
TWT: Tell us what you can about Big Fish. Do you see the comparisons between the film and show? And what has the rehearsal process been like?
RA: John August wrote the screenplay, and he's also writing the book. The foundation of the story is still there, the main characters from the movie are still there, there are definitely some things that have changed, and in my opinion, it's for the better, especially when you add the convention of music.  Andrew Lippa's score is heartbreaking and stunningly beautiful.  I think this is one of the best show's that has been written for Broadway in decades.
TWT: This is your Broadway debut. Can you put what that feels like into words?
RA: I had stopped singing for a while.  It wasn't' part of the paradigm that I had slowly started forming for myself in NY.  I came here to sing, but I had really focused on acting, and not singing, that is until I met Roland Burks. He really helped me remember that I had a valuable thing, and that it wasn't something to take for granted.  So I had been taking lessons for myself, not for a show, and when the call came, my voice was ready. : I happened to be exactly what they were looking for, at exactly the right time. At some moments I think, I can't believe I'm a part of this, and then there are moments when I think, of course I'm a part of this, I was made for this. To add to that, we'll be opening Big Fish at the Neil Simon, and my grandfather did Wildcat in 1960 playing opposite Lucille Ball. It's amazing how things come full circle.
TWT: Just for fun, what books are permanently on your bookshelf?
RA: I'm a huge Hemingway fan. It sounds so cliché, but it's true, and if I had to pick one of his books, it'd have to be The Sun Also Rises. I'm a massive fan of The Fountainhead; I've loved that book since I was a teenager.  A book I read recently was called Empire of the Summer Moon: Quanah Parker and the Rise and Fall of the Comanches, the Most Powerful Indian Tribe in American History – that was a beautiful book. Blood, Bones, and Butter, written by Gabrielle Hamilton, who's the chef at Prune. I'm a huge fan of epic fantasy; the series I just finished is called The Wheel of Time, written by Robert Jordan and Brandon Sanderson.
TWT: Just for fun, if you were stranded on a desert island, what movies would you want to have with you?
RA: A River Runs Through It, Butch Cassidy and the Sundance Kid, The Royal Tenenbaums, and The Last of the Mohicans.
TWT: Just for fun, what sound do you hate, and what sound do you love?
RA: I drive a motorcycle.  But the guys who drive by really fast and set off every car alarm it really aggravates me. I love the sound of nature.  The sound of the outdoors.
TWT: What advice would you give to high school students who wish to pursue a career in theater?
RA: When I was in high school, I was a pain in the ass.  I cut classes, I got horrible grades, I smoked – but the only thing that saved me from falling off the deep end were my sculpture classes. There needs to be an outlet for kids to express themselves, but that thing has to be tempered by a certain amount of pragmatism as well. The arts system needs to prepare students for the realities of the world beyond the classroom. Your dreams don't come true just because you moved to New York City.  It needs to be the responsibility of the art departments to teach about work ethic, which is a vital necessity that must be coupled with talent. So, my advice to high school students would be, know what you're getting yourself into.  This is not a ride that's going to be easy.  This is one of the most difficult things that you could choose to do; if you had a room full of twenty actors, maybe one gets a job. I would also urge students to know the business side of this field, which is something that is not taught in schools. Getting yourself a good headshot, and a website, and knowing how to network – those things are important. They can be more important than the actual acting class you take. The work doesn't stop once you get an agent – that's just the beginning of the work.
TWT: In today's economy, arts programs are being cut.  What reasons would you give to a politician for preserving the arts?
RA: We are a society that produces multi-faceted kinds of people.  One version isn't going to work for every type of person.  It's the facets within the system that allow for the flexibility to produce artists, writers, musicians – the types of people who provide us with the things we love, artistically.  They provide us with our entertainment.  In our culture, entertainment is one of the most important things we have, I'd say it's become essential to who we are as Americans.  We provide entertainment to the world in a lot of ways.  The American Musical isn't done anywhere else.  They aren't making Broadway musicals in Germany.  They make it here. It's important to protect the system that makes the things that we love, and right now they're in jeopardy.  We have a large responsibility to raise people who are going to raise good people.
TWT: Who is/was your greatest teacher?
RA: My grandpa, Keith Andes.  His stories, his advice about life, his advice about the career that I've chosen – they're things that I still think about today.  He was the man who always said success is when opportunity meets preparation.  He was always about maintaining the integrity of the show and your work.  Because of him, I'm able to do what I do.  Because of him, I'm a huge fitness fanatic, he always taught me that you have to be ready to do anything, and you have to be aesthetically pleasing as possible, and you should be good to yourself because eight shows a week gets rather draining on the body. Camille Howard was my first acting teacher in college, and she was another mentor.  She was a truly beautiful human being. I learned about the human spirit from her. I learned about the soul. I still have the notebook that I kept in her class, and refer to it often. Camille passed away from colon cancer about ten years ago, and I was lucky to have known her. She taught me more than just how to act, she taught me how to live.
Thank you, Ryan!
AND, remember, tickets for Big Fish are on sale now.
Live, Love, Learn,
Megan &