A Write Teacher(s) Review: The Well of Lost Plots
Dear Bookworms,
For every book that is published and sent out into the world, there are at least eight that remain, for one reason or another, unpublished and unheard of – well, unheard of by you and I anyway. Literature, as we know from the other Thursday Next adventures, is a world unto itself in which all books are accounted for and cataloged. The unpublished ones simply live elsewhere. They can be found in The Well of Lost Plots.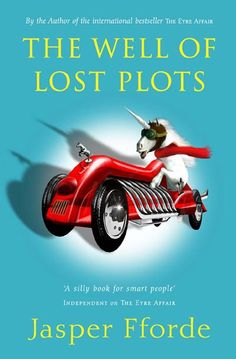 The Well of Lost Plots, the third installment in Jasper Fforde's literary detective series, finds heroine Thursday Next still very much affected by the events in the previous two novels and in need of a sabbatical of sorts. And what better place, for someone who can leap in and out of fiction at will, to hide away in than the BookWorld itself? Thanks to the Character Exchange Program, Thursday is allowed to do just that. By trading places with a secondary character from an unpublished novel, she believes that she has bought herself some time and space in which to lay low and rest – but things rarely go according to plan, especially in the BookWorld.
Thursday faces murder and mystery once again, but this time in new territory as she learns the inner workings of the BookWorld. From navigating the black market where plot devices are bought and sold, to observing first-hand how Generic beings develop into literary characters, to battling phenomenal creatures found only in the fictional realm, Thursday gains a whole new perspective on how fiction operates.
Please note that because the majority of this story takes places within fiction, many literary works are mentioned and spoilers are included. For the convenience of those who wish to read up on pertinent material beforehand, I have provided here a list of the books you'll want to be familiar with going into The Well of Lost Plots.
Please note that this list does not cover all materials mentioned in this book, as that list would be extremely long indeed, but only those that are crucial to the plotline of this novel or have some kind of spoiler mentioned.
Some series consist of novels which contain a common thread but can be read largely independently from one another. This is not one of those series. Fforde's fantastical imagination builds upon his characters and setting from book to book and consequently, all book recommendations listed for the previous novels are excluded from this list unless deemed more significant. For those lists, please see The Write Teachers reviews for The Eyre Affair and Lost in a Good Book.
What to Read Before Reading The Well of Lost Plots
* A healthy knowledge of the works of Shakespeare is recommended for this series. References to many of his works appear throughout. For this book, however, Macbeth takes precedence.
1 = Significant spoilers and/or pertinence to the plot of this book.
Wuthering Heights by Emily Brontë
The Mill on the Floss by George Eliot
David Copperfield by Charles Dickens
Lord Jim by Joseph Conrad
Shadow the Sheepdog by Enid Blyton
2 = References that reveal something about the classic but do not affect the plot of this book.
Anna Karenina by Leo Tolstoy
20,000 Leagues Under the Sea by Jules Verne
On Her Majesty's Secret Service by Ian Fleming
Macbeth by William Shakespeare
The Maltese Falcon by Dashiell Hammett
Brideshead Revisited by Evelyn Waugh
Bleak House by Charles Dickens
Lorna Doone by Richard Doddridge Blackmore
3 = Minor remarks that probably won't spoil too much.
Rebecca by Daphne du Maurier
Just So Stories by Rudyard Kipling
Gulliver's Travels by Jonathan Swift
Ulysses by James Joyce
The Hunting of the Snark by Lewis Carroll
The Little Prince by Antoine de Saint-Exupéry
Waiting for Godot by Samuel Beckett
Dracula by Bram Stoker
A Christmas Carol by Charles Dickens
Know of any spoilers that I missed? Leave a comment below and let me know!
Keep reading!
Live, Love, Learn